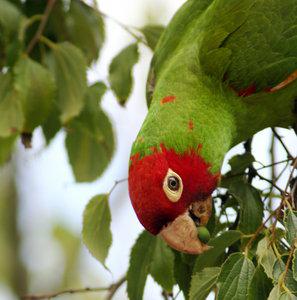 Photo: Aratinga Erythrogenys
Kingdom: Animals
Type: chordal
Class: Birds
Squad: parrot
Family: Parrot
Subvenuation: Real parrots
Rod: Arating
Body length 33 cm. The main coloring is green, sometimes with a rare interspersing of red feathers. Crown, forehead and sides of the head red. Wing plumage in the middle of the inside and red blades. The unexpected zone around the eyes is white. The beak of flesh -colored. The iris yellow. Females and males are painted the same.
Lives on the southwestern coast of Ecuador and North Peru.
Settled in arid areas, live in flocks from 6 to 10 birds. These are nomadic, noisy and noticeable birds.
Usually nest in the hollows of trees. In the masonry there are from 3 to 4 eggs. The female forces masonry 23—24 days. At about 2 months of age, drunk chicks leave the nest.
Other types of genus «Arating»:
White -eyed Arating

Haician arating

Mexican Arating

Zlatshapa arating

Golden Arating

Gold Arating

Cactus arating

Colombian Arating

Brown -high arating

Brown -headed arating

Red -faced arating

Cuban Arating

Orange -haired Arating

Sinelia Arating

Solar arating

Endia

Finns Arating