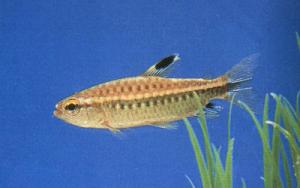 Photo: Arnoldichthys spilopterus
Size up to 3 cm.
Lives in the waters from Lagos to Delta Niger.
The male is more vividly painted, with a veil anal fin. Contain in a spacious aquarium with free areas for swimming, preferably a flock.
Water for maintenance: DH up to 15°; pH 6.5-7.5; t 22-26° With.
Preparation for spawning is common, but preferably in the aquarium illuminated by the sun.
Water for spawning: DH up to 3.5°; pH 6.0; T 26-28° With. Carbonate rigidity is minimal.
80-100 liters of spawning grate, aeration and a small bush of plants in the center. The incubation period is about 7 days.
Starting food – Artemy.
The fry is voracious and grow quickly. Female mosque up to 1000 eggs.