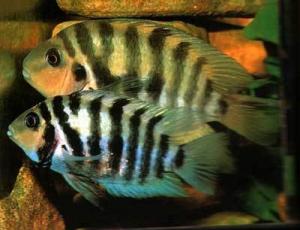 Photo: Cichlasoma nigrofasciatum
Photo: Cichlasoma nigrofasciatum
Size up to 10 cm.
Lives in Guatemala reservoirs.
The male is usually a little larger than the female. The ends of the spinal and anal fins in males have the appearance of mowers.
Housing and breeding are simple and similar to the conditions described above. The composition of water for maintaining and breeding does not matter. Water temperature at a housing of 18-28 °With. You can breed fish in a permanent aquarium. For stimulation of spawning, 1/5 part of the water is replaced and the temperature is increased by 2-3 °With.
Manufacturers lay caviar into the flower pot or any other shelter. They actively take care of caviar, pluck out unexplored eggs and drive away fish floating by. Parents usually transfer the larvae to the corner of the aquarium and continue to actively protect them.
Malkov can be grown without pressing from manufacturers.
Starting food – Artemia, small cyclops (scum) or finely cut tube.
When breeding cichlids, lovers often receive a small number of fry, since when the parents are transferred to parents, a significant part of it is lost. The following methodology is used to obtain a large litter. After spawning, the eggs, along with the shelter, are transferred to the lifting, where the water is pre -cast from the spawning ground. A aeration point is installed next to the caviar and tinted water with methylene blue.
The water level should be small (7-15 cm). The volume of the jerk is chosen taking into account the possibility of further (better without transplantation) raising fry. As the fry grows, the water is gradually adding daily. This avoids a disastrous for fry of a sharp change in the composition of the water when replacing it and stabilize the PH value by the constant addition of fresh water.
Other types of cichlazoma (Cichlasoma)
Tsichlazoma MEKE

Diamond cichlazoma

Tsihlazoma mesonuata

Tsichlazoma Severum

Brazhnik. Tsihlazoma is wine. Cichlazoma is an oxide

The beauty is pink -melting. Sejik Tsihlazoma.

Cichlazoma Barton

Tsichlazoma Facetum

Tetracantum cichlazoma

Cichlazoma Salvini

Cichlazoma rainbow

Orange cichlazoma

Tsichlazoma Oktopasciitum

Tsichlazoma Nicaraguan

Cichlazoma is lemon. Cichlazoma is qitron

Cichlazoma sizai. Spilurum cichlazoma