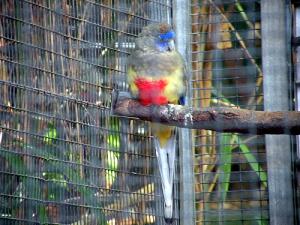 Photo: Psephotus Haematogaster Haematogaster
Kingdom: Animals
Type: chordal
Class: Birds
Squad: parrot
Family: Parrot
Subvenuation: Real parrots
Rod: Sloby parrots
Body length 28-31cm. The main coloring of the brown-bolot. Forehead, front of the head, cheeks and ears of purple-violet. A small yellow strip above the ears. Breast belt, sides of the abdomen and subsidiary — Yellow. The middle of the abdomen and the femoral region are red. Wing bend, paramount flying, upper and lower covering wings — Lilac-violet. The shoulders are blue. The tail is blue below. The beak of a gray-bone color. The near -eyed ring is gray. The iris is gray-brown. Gray paws.
Lives in the southeast of Australia.
Dry savannah, edges of the forest along the coast of rivers inhabit.
In the masonry there are from 3 to 5 eggs. The chicks appear after 25 days, and at 35-40 daily age they fly out of the nest.
Little.
The view includes 4 subspecies:
Sinelian singing parrot Psephotus Haematogaster Haematogaster (GOULD, 1838)— Body length 30 cm. Distributed in South Australia (in the north-west of Victoria, the West of the New South Wales, South-West of Queensland).
Red -brow -brow -brown -haired singing parrot, or red -knitted parrot Psephotus Haematogaster Haematorrhous (Bonaparte, 1856) — Body length 31 cm. The main coloring of the plumage is like that of the nominal subspecies, but the red is also present on the subsidiary. The shoulders are green. Small and medium covering wings cherry-brown (form a stain on the wing). The female is similar to a male, but the head and beak are smaller, also less red and plumage, in general, is less bright. Distributed in the south of Queensland, north of the new South Wales.
Psephotus haematogaster narethae (h. L. White, 1921) — Body length 28 cm. The main color is like that of the nominal subspecies, but more brown. Red on the stomach and hip is absent. The subsidiary is red. The bend of the wing and the shoulder is more lilac-blue. Upper small covering wings red-orange. Wings and sacrum with greater yellowness. Widespread in the southeast of Western Australia.
Singless Sinelic Singing Poster Psephotus Haematogaster Pallescens (Salvadori, 1891) — Body length 30 cm. The main color is like that of the nominal subspecies, but paler. It was widespread in the northeast of South Australia (rn of the Air Lake basin and nearby territory), southwest of Queensland, the northwest of the new South Wales.
Other types of genus «Flat -tailed parrots»:
Multi -colored flat -headed parrot

Goldflake flat -headed parrot