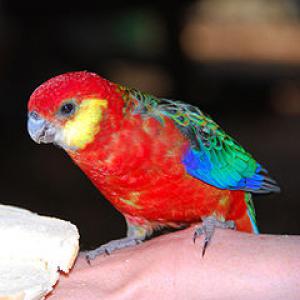 Photo: PlatyCercus ICTEROTIS
Kingdom: Animals
Type: chordal
Class: Birds
Squad: parrot
Family: Parrot
Subvenuation: Real parrots
Rod: Rosella
The smallest of all Rosell, body length 27-28cm, tail 14 cm. The coloring of the plumage in red, black and yellow colors. Cheeks of light yellow or yellow color, for which the parrot got its name. Feathers in the upper back are black, with borders of red, green and yellow, and in the lower green. There is a blue strip along the edges of the wing. Neck, head, goiter and abdomen, including subsidiary, bright red. The female is noticeably different from the male. All the colors are paler than her, and instead of red orange or brick, the cheeks are dirty yellow. The upper body of the body is brown-green, the reptiles are not as clearly outlined as the male.
Lives in the east and south of Australia and the adjacent islands.
Despite the fact that large flocks of Rosell are harmful, flying to feed on the fields sown with agricultural crops, people do not pursue them.
In the masonry of 4-6 white eggs. Running lasts 22-24 days. The male at this time feeds the female. The chicks are in the nest for 30-35 days, after which they leave it, but the parents take care and feed them for another 2-3 weeks.
Easily tamed, has a peaceful calm character. Easier than other Rosella, propagates in captivity.
The view includes 2 subspecies:
PlatyCercus ICTEROTIS ICTEROTIS (Temminck & Kuhl, 1820)
PlatyCercus ICTEROTIS Xanthogenys Salvadori, 1891
Other types of genus «Rosella»:
Pale -headed Rosella

Green Rosella

Red Rosella

Rosella (bird)

Black -headed Rosella