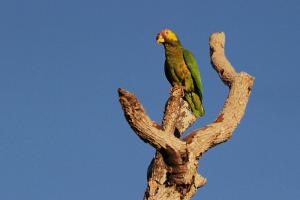 Photo: Alipiopsitta Xanthops
Kingdom: Animals
Type: chordal
Class: Birds
Squad: parrot
Family: Parrot
Subvenuation: Real parrots
Rod: Amazons
Body length 27 cm. The main color is lemon green with dark green borders along the edges of the feathers. Forehead, head, area around the eyes (for some) — Yellow. Ears yellow-orange or reddish. The edge of the tail with a wide red-orange strip. Wide near -eyed rings white. Bone color, oversleep dark gray on the bend. The iris yellow. Fleep -colored paws. Some birds have a bald forehead above the bridle.
Lives in the central and eastern Brazil.
Inhabiting semi -air areas with low trees. It feeds on seeds and fruits. Life expectancy is about 40 years old.
Most often 3 eggs in masonry. Running lasts 24 days.
Other types of genus «Amazons»:
White -faced Amazon

Red -tailed Amazon

Venezuelan Amazon

Vinnogrude Amazon

Yellow -headed Amazon

Yellow -bellied Amazon

Yellow -based Amazon

Yellowish Amazon

Greenish Amazon

Imperial Amazon

Royal Amazon

Red -Robbed Amazon

Red -zone Amazon

Yellowish Amazon

Cuban Amazon

Puerto Rican Amazon

Luxurious Amazon

Sinelian Amazon

Sinex Amazon

Sineshapic Amazon

Soldier Amazon

Tukuman Amazon

Festive Amazon

Black -Jewish Amazon

Yamaisky black -billed Amazon

The blue Amazon

Surinam Amazon

Yamaisky yellow -billed Amazon

Amazon Cavall

Amazon Muller