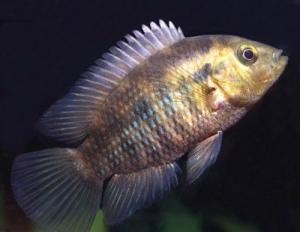 Photo: Cichlasoma Facetum (Jenyns, 1842)
Inhabit the southern part of Brazil, Uruguay and the northern part of Argentina.
Keep in rivers and lakes, as well as in the brackish water of the mouths of rivers.
Length up to 30 cm, in the aquarium usually 10 cm.
The color of the body changes greatly depending on the environment, mood and composition of food. Typically, the main coloring is gray-yellow to brass yellow, but it can be green, green-blue, red or bloody red. 5-6 pass through the body, of varying degrees of saturation, dark transverse stripes.
Pisces are precious, strongly dig the soil.
Water for maintenance: 20-27°C, DH up to 20°, pH 6.5-7.5.
For breeding r. Riel, x. Bensh (47) recommend 25-27°C, DH 5-12°, pH 6.5-7.
Caviar is laid on flat stones.
Puberty at 10-15 months.
Other types of cichlazoma (Cichlasoma)
Tsichlazoma MEKE

Cichlazoma is black -legged

Diamond cichlazoma

Tsihlazoma mesonuata

Tsichlazoma Severum

Brazhnik. Tsihlazoma is wine. Cichlazoma is an oxide

The beauty is pink -melting. Sejik Tsihlazoma.

Cichlazoma Barton

Tetracantum cichlazoma

Cichlazoma Salvini

Cichlazoma rainbow

Orange cichlazoma

Tsichlazoma Oktopasciitum

Tsichlazoma Nicaraguan

Cichlazoma is lemon. Cichlazoma is qitron

Cichlazoma sizai. Spilurum cichlazoma