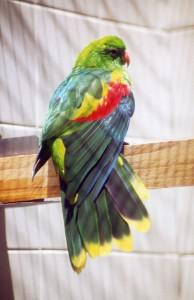 Photo: APROSMICTUS JONQUILLACEUS
Kingdom: Animals
Type: chordal
Class: Birds
Squad: parrot
Family: Parrot
Subvenuation: Real parrots
Rod: Red -winged parrots
Body length 31cm. The color of the green plumage, in the front of the back is a darker. The abdominal part of the body is blue. Painting of steering feathers from the bottom and in the middle is black with the ends of the yellowish color. Covering the wing feathers in the front of the red, all the rest of the olive-green. Females differ from males in that they have yellow borders on steering feathers.
Lives on the islands of vetar and Timer.
Inhabit forests and savannahs.
The view includes 2 subspecies:
APROSMICTUS Jonquillaceus Jonquillaceus (Vieillot, 1818)
APROSMICTUS JONQUILLACEUS WETTERENSIS (Salvadori, 1891)
Other types of genus «Red -winged parrots»:
Red -winged parrot