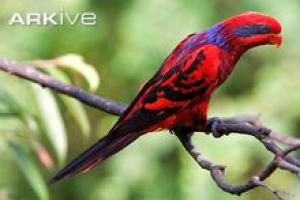 Photo: eos reticulata
Kingdom: Animals
Type: chordal
Class: Birds
Squad: parrot
Family: Parrot
Subvenuation: Lauria
Rod: Red Lori
Body length 31 cm. The main coloring of the plumage is red. Blue strips pass from eye to ear. The tail is brown-black, covering the feathers of the wings with black films.
It lives on the islands of Tninimbar and Babar (Indonesia). I also lived on Kay Islands, but it may disappear.
Inhabit mangrous and coconut groves, plantations and forests. Very active, sociable bird.
Other types of genus «Red Lauries»:
Black -winged red Lori

Scaly red lori

Red Lori

Blue red Laurie