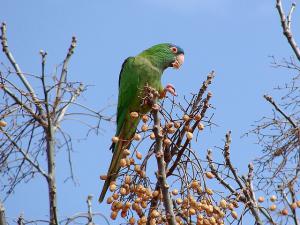 Photo: Aratinga Accuticaudata
Kingdom: Animals
Type: chordal
Class: Birds
Squad: parrot
Family: Parrot
Subvenuation: Real parrots
Rod: Arating
Body length 35—37 cm; the weight — 140—190. Green plumage. Cheeks, forehead, crown, as well as an area near the ears and around the eyes of a blue color. The inner side of the side steering feathers has a blood-red color with a brown tint. Flake feathers at the end of black. Light beak with a black tip on the connection. The paws are pink-brown.
They live in the east of Bolivia and Colombia, north of Argentina, in Paraguay, Venezuela and Uruguay.
Inhabit fields, forest edges, and semi -dodgy areas.
These intellectual, very mobile birds are popular with nature lovers. They are relatively good for Arating reproduce human speech.
The view includes 5 subspecies.
Aratinga Acuticaudata Acuticaudata (Vieillot, 1818)
Aratinga Acuticaudata Haemorrhous Spix, 1824
Aratinga Acuticaudata Koenigi Arndt, 1995
Aratinga Acuticaudata Neoxena (Cory, 1909)
Aratinga Acuticaudata Neumanni Blake & Traylor, 1947
Aratings male named Paul (in the original Paulie) and a female named Lu are the main characters of the cartoon «Poly», released in 1998 by the DreamWorks film studio
Other types of genus «Arating»:
White -eyed Arating

Haician arating

Mexican Arating

Zlatshapa arating

Golden Arating

Gold Arating

Cactus arating

Colombian Arating

Brown -high arating

Brown -headed arating

Red -headed arating

Red -faced arating

Cuban Arating

Orange -haired Arating

Solar arating

Endia

Finns Arating