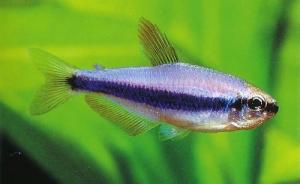 Photo: Inpaichthys Kerri
Size up to 4 cm.
Lives in the Aritsanan River, Brazil.
Blue-brown male with a blue stripe along the body, larger than the female and has a blue fat fin, and in the beige female it is brownish red.
Kerry is very similar to the royal tetra.
Water for maintenance: DN up to 5°; pH 6.0-7.0; t 22-24° With.
Water for spawning: DH up to 5.0°; pH 6.8-7.0; t 24-26° With. Carbonate rigidity is minimal.
For breeding, a 10 liter spawning is required with a spawning grill. A bunch of small -leaved plants are placed in the center, since manufacturers switch caviar into the plants. The development of larvae and caviar occurs in the same way as in the royal notebook.
Female mosque up to 300 eggs.