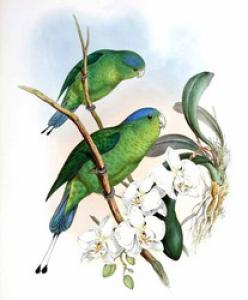 Photo: Prioniturus flavicans
Kingdom: Animals
Type: chordal
Class: Birds
Squad: parrot
Family: Parrot
Subvenuation: Real parrots
Rod: rocket -high parrots
Body length 37 cm. The main coloring of the green plumage. Throat, chest and stomach yellowish-green. Crown, blue with a red spot in the center; the back of the head, back and upper part of the chest olive-yellow. Cover and subsidiary greenish-blue; Two medium -sized tails elongated with endings in the form of black «rockets». Fighting tails green with black tips. Narrow -eyed ring of a narrow gray. The beak of a light bluish-river color with a whitish tip. The iris is dark brown. The legs are greenish-gray. First described by Kassin in 1853.
Endemic Indonesia.
Inhabit subtropical and wet tropical forests.
Is under threat of disappearance due to loss of natural habitat.
Other types of genus «Rocket -high parrots»:
Burui missile parrot

Mountain rocket -high parrot

Yellowish rocket -high parrot

Green missile parrot

Blue -headed missile parrot

Sineshapa rocket -high parrot