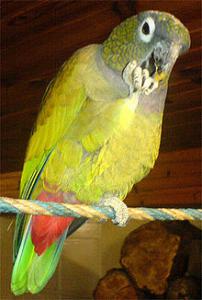 Photo: Pionus Maximiliani
Kingdom: Animals
Type: chordal
Class: Birds
Squad: parrot
Family: Parrot
Subvenuation: Real parrots
Rod: Red -haired parrots
Body length 29-30 cm, tail 7 cm; Weight 225—275 g. The coloring of the plumage is green. The front of the head is green, with a black bridle and darkness. Back and wings are dark, olive-green. The abdomen is a little lighter. The breast is blue-green, the crown and forehead is gray-green with a dark border. The inside of the tail is red, a yellow-green strip is visible by the end. The upper side of the tail feathers includes several colors: the extreme feathers of blue, with a red section closer to the base; Medium, steering — Green. There is a naked zone around the eyes, behind and in front of the eyes it is gray, and above and under the eye — White. Overshoot at the base is grayish-black, connection and tip straw-yellow. The coloring of males and females is the same.
It lives in the northeast of Argentina and the southeast of Brazil.
Inhabit the crowns of gallery tropical forests of plain and mountainous regions to a height of 1,500 m above sea level. They feed on fruits, seeds and vegetative parts of plants, sometimes fly on corn plantations.
The nesting season begins in September-October. Nests are placed in the hollows of trees high from the ground. In the masonry 2-4 eggs. Running lasts 26 days.
The view includes 4 subspecies:
Pionus Maximiliani Lacerus Heine, 1884
Pionus Maximiliani Maximiliani (Kuhl, 1820)
Pionus Maximiliani Mlanoblepharus Ribeiro, 1920
Pionus Maximiliani Siy Souance, 1856
Other types of genus «Red -haired parrots»:
White -headed red -haired parrot

Bronze -winged parrot

Red -closed red -haired parrot

Dark red -haired parrot

Blue -headed red -haired parrot