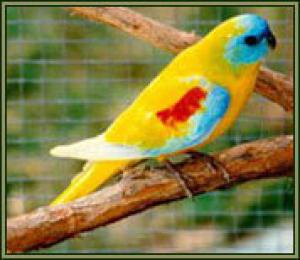 Photo: Neophema Splendida
Kingdom: Animals
Type: chordal
Class: Birds
Squad: parrot
Family: Parrot
Subvenuation: Real parrots
Rod: Herbal parrots
Body length 22cm, tail 17 cm. Is the most beautiful and bright representative of this kind. The male has a brilliant blue color of the head, throat and bridle purple, abdomen and lower part of the tail are yellow, the chest is bright red, the back and tail are green. Flaw feathers black with blue outer fan. Crowning feathers of wings blue. Fleep -colored paws. The beak is black. All the plumage of this bird is brilliant, as if glossy. The female has a more dull coloring.
It lives in the south of Australia (southeast of Western Australia, the south of Queensland, the west of the new South Wales, the north-west of Victoria).
Inhabit scrabs, acacious savannahs and grassy plains. Sometimes these parrots are found in cultivated landscapes— in gardens and farms. Feed on earth with seeds of herbs. From April to August, they are kept in flocks from 5 to 20 individuals, and later scatter in search of places for nesting.
Nesting in hollows, excavations and voids of trunks and branches of low trees and bushes in September-October. In the masonry of 3-6 white eggs that one female against. The chicks are excreted after 19-20 days, and leave the nest after 25-28 days. Parents fed them for some time.
Rare. The number of species was reduced both as a result of the deterioration of habitats and the capture of the birds themselves. Formally in Australia is under guard.
Other types of genus «Herbal parrots»:
Golden -beach grass parrot

Azure herbal parrot

Sinkryly grass parrot

A rocky herbal parrot

Decorated with a herbal parrot