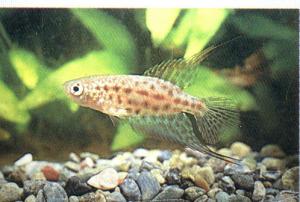 Photo: Cynolebias Constanciae Myers, 1942
Inhabit reservoirs of the surroundings of g. Rio de Janeiro (Brazil).
Length up to 5 cm.
The body is elongated, slightly flattened from the sides. The dorsal fin and the anal fin is sharply elongated. The body of the male is brownish with 2 dark longitudinal stripes, coming from the middle of the body to the stalk of the tail, the rest and fins are covered with dark brown to black spots. Side with a weak green-blue gloss. The ends of the anal fin and the dorsal fin is blackish. Brown female with dark spots, among which 1-2 rounded spots are distinguished in the middle of the body.
Incubation period 4-6 months.
Other types of the genus Qinolebias (Cynolebias)
Tsinolebias White

Tsinolebias Alexander
Qinolebias Bellotta

Zinolebias star