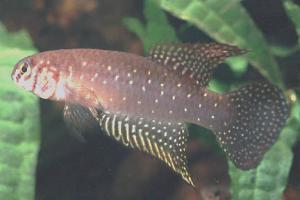 Photo: Cynolebias Whitei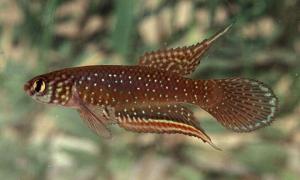 Photo: Cynolebias Whitei
Size up to 8 cm, females smaller.
Lives in reservoirs in the area of ​​Rio de Janeiro, Brazil.
The male has a spinal one and anal fins with strongly elongated ends. The species are contained in small aquariums with a low level of water, any small -leaved plants and a layer of peat at the bottom. Formy feed for aquarium fish, lively or dry.
Water for maintenance: DH up to 20°; pH 6.0-7.0; t 20-25 °With.
Tsinolebias White is an ordinary representative of annual fish, therefore, upon reaching sexually, spilling is constant.
Breeding water: DH up to 8.0°; pH about 6.5; t 25-28 °With.
Sweet caviar is taken once every 7-10 days. Caviar incubation can be carried out in dried peat (incubation period of 6 weeks) or in water.
Starting feed for fry – Artemy.
The malelly grows quickly.
Other types of the genus Qinolebias (Cynolebias)
Tsinolebias Alexander
Qinolebias Bellotta

Zinolebias star

Qinoliabias Constance. Qinoliabias is marble