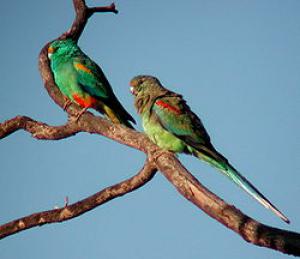 Photo: psephotus varius
Kingdom: Animals
Type: chordal
Class: Birds
Squad: parrot
Family: Parrot
Subvenuation: Real parrots
Rod: Sloby parrots
Body length 27 cm. Green color prevails in the plumage of the male. Forehead, wings stain and lower covering tails — yellow-orange. The middle part of the belly is painted in saturated red color. The female is painted much more modest, mainly in olive-brown tones. The beak is black. Close-eyed ring is gray-brown, a brown iris. Fleep -colored paws. In nature, there are many options for colors inside the species.
Lives in the southern regions of internal Australia.
Inhabit forest -steppe with meager vegetation, mainly in arid areas. Willingly settle in cultural landscapes, especially in rural areas. They feed mainly with seeds of herbs, as well as various small insects and their larvae.
The female lays from 4 to 6 eggs, which against 21-22 days. Both partners participate in feeding the chicks, after 35 days the chicks fly out of the nest.
This species was first delivered to Europe in 1862. Cells contain less often than a red -headed singing parrot, with which they are very similar in behavior and conditions of detention. As a rule, birds are kept in pairs, with a joint housing of several pairs, quarrels are possible, especially during the period of nesting.
Other types of genus «Flat -tailed parrots»:
Goldflake flat -headed parrot

Blood -haired plane parrot