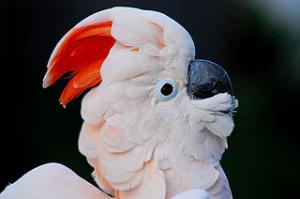 Photo: Cacatua Moluccensis
Kingdom: Animals
Type: chordal
Subtype: vertebrates
Class: Birds
Squad: parrot
Family: Kakada
Rod: Kakada
Body length 50-52 cm; Weight 800—900 g. The coloring of the plumage is white, on the head, neck, chest and belly pale pink shade. The subsidiary is orange-yellow. Orange-pink covers. The size of the crest is approximately 17 cm. External feathers white, internal red-orange. The paws are dark gray. Black-gray beak. A near -binding ring without feathers, white with a bluish tint. Male and female are painted the same. The rainbow in the male is black, the female is brown. This sign becomes noticeable in the fourth year of life. The male is larger than the female.
Lives on the Molucca Islands, in particular on the islands of Seram, Ambon and Saparua.
Forests, forest borders, deforestation with small groups of trees, mango thickets, swampy territories, coconut plantings, coastal zones, to a height of 1000 m above sea level are inhabiting. Keep in pairs, small and large flocks (from 20 individuals). They prefer tall trees. Spend the night in groups up to 16 birds. Caution, in case of danger quickly fly away. The most active in the morning and late in the afternoon. They feed on seeds, fruits (including green coconuts), berries, nuts, insects and their larvae. Can keep food with one paw, and break off pieces with a beak. During the rain, they bathe, hanging upside down and spreading the wings.
Nest in high hollow (dead) trees. The nest is lined with wood bark and dust. There are usually 2 eggs in masonry. Stugging starts with the first egg. Interval between eggs 48 hours. Eggs are trotted by both parents. The first chick is displayed on the 30th day of the incubation, the second — 4 days later. Newborn chicks weigh 14-20 g. Young chicks leave the nest at the age of 3 months, but parents feed them another month.
The population has less than 10,000 individuals. At the beginning of 1960 he was entered in the International Red Book.
This is a very understandable parrot, strongly tied to a person. The ability to imitate human speech is very limited. He can pronounce only individual words, as a rule, no more than 10, and phrases. Well imitates the voices of animals. Life expectancy 40-80 years.
Other types of genus «Cockatoo»:
Large white -skinned capacu

Large yellow -haired cocoon

Small yellow -haired cocoon

Halk -eyed CACACE

Nosy cocoon

Solomon Kakadu

Philippine Kakada

Cocadia Goffin