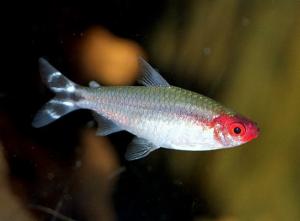 Photo: Hemigrammus rhodostomus ahl, 1924.
Inhabit the lower reaches of the. Amazon.
Length up to 5 cm. The body is elongated in length, very slender.
Olive-green back, side silver with a greenish-yellow shine. Starting under the spinal fin in the middle of the body and to the end of the tail fin passes, gradually expanding, a black longitudinal strip, above it a flickering line above it, above which a golden strip shines on a tail stem. The snout is bloody red. On the blades of the tail fin along the oval dark spot. The remaining fins are colorless or greenish.
Mobile fish, love shady places, keep in the middle layer of water. With a sharp change in conditions, they become shocked.
It is better to plant a group of fish for spawning, t.to. It is difficult to choose a couple.
Other types of the Hemigrammus genus (Hemigrammus)
Tetra fire or erythrosonus

Flashlight

Tetragonopterus

Pulher

Neon is green

Hemramus marginatus