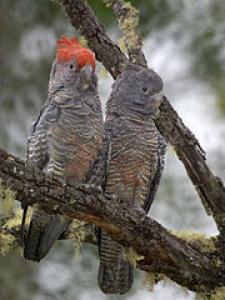 Photo: Callocephalon Fimbriatum
Kingdom: Animals
Type: chordal
Class: Birds
Squad: parrot
Family: Kakada
Subvenuation: Black Cacuba
Body length 32—37cm; Weight 250—280 g. The main coloring of the plumage is gray, each feather borders the ashen color, head and crest — bright orange. The lower abdomen and the lower tail feathers are bordered by the orange-yellow. Wings and tail gray. The beak is light. The female has a gray head and a crest.
Lives in southeastern Australia and on nearby islands.
Inhabits mountain eucalyptus forests to a height of 2000 m above sea level.