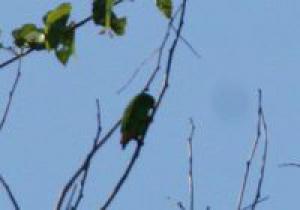 Photo: loriculus flosculus
Kingdom: Animals
Type: chordal
Class: Birds
Squad: parrot
Family: Parrot
Subvenuation: Real parrots
Rod: hanging parrots
Body length 11-12 cm. The main coloring of the plumage is green with a yellowish tint on the upper and lower side of the body. Throat light blue with red spot. The back of the head is orange-yellow. Nadkhnity and the gulus are bright red, and the fly feathers from the inside and the tail below light blue. The beak is red.
Endemic island Flores (Small Sunda Islands).
Wood parrot, does not go down to the ground.
There is a threat of extinction, since this parrot has a very small area and population. main reason — Destruction of the natural habitat. Currently, the population has from 2500 to 10,000 individuals.
Other types of genus «Hanging parrots»:
Spring hanging parrot

Yellow -hill hanging parrot

Green -haired hanging parrot

Golden -haired hanging parrot

Moluccan hanging parrot

Sangian hanging parrot

Blue -headed hanging parrot

Sulawassian green hanging parrot

Filippian hanging parrot

Ceylon hanging parrot

Sulawassky Krasnohapo Hanging Parrot

Hanging parrot of the island of Kamigin