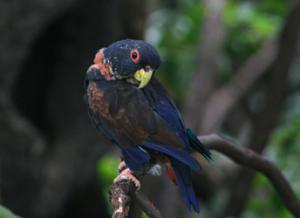 Photo: Pionus Chalcopterus
Kingdom: Animals
Type: chordal
Class: Birds
Squad: parrot
Family: Parrot
Subvenuation: Real parrots
Rod: Red -haired parrots
Body length 27 cm, tail 8 cm. Black plumage with blue tint. The upper back and shoulders are dark brown. Nadkhness, tail and fly feathers of bluish coloring. Brown wings covering shows with a light border. Red subsidiary with purple borders of the protruding feathers. The beak of a yellowish hue.
Lives in the northeast of Peru, in Colombia and Ecuador.
Inhabit wet, deciduous forests. Depending on the season, they wander from place to place. Very sociable and often gather at night in large flocks. The average life expectancy is about 40 years old.
Reproduction period from February or March to June or July. The masonry is usually 3-4 eggs. Running lasts 24-26 days.
Other types of genus «Red -haired parrots»:
White -headed red -haired parrot

Red -closed red -haired parrot

Dark red -haired parrot

Blue -headed red -haired parrot

Red -haired parrot Maximilian